Pomplamoose
The year is 2008. The place: YouTube. Nataly Dawn and Jack Conte, a young musical couple, put their first musical collaboration video up on YouTube. Jack described it as a combination of his music and Nataly's. "And that's all", Nataly responded. But that wasn't all. It was just the first of many videos, filled with groovy tunes, gorgeous vocals, engaging rhythms and much more. Under the name Pomplamoose, they started a new channel for all of their songs.
This week's Track of the Week is that very song that started it all: "Pas Encore".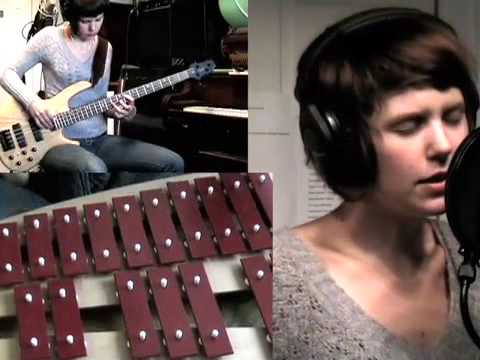 I recommend watching the video first.
If you want to listen to a version with better sound quality, it's on Spotify:
VideoSongs
Let's talk about that video first. You might have seen more videos done like these, but Pomplamoose is one of the best (and first) to do music videos like this. They call them VideoSongs. An explanation from the creators themselves:
Pomplamoose makes VideoSongs, a new medium with 2 rules:
1. What you see is what you hear (no lip-syncing for instruments or voice).
2. If you hear it, at some point you see it (no hidden sounds).
Simple, yet effective. It's not live though, mind you. The tracks are still mixed and there are effects added to the instruments. But that's definitely not a bad thing. Because the music is mixed, and adhering the rules of the VideoSong; the visuals are also mixed.  The audio and visuals are more linked to each other than most other music videos.
When a sound is played backwards, the same goes for the video that goes with it (the water glass at 0:34 in the video). When a single bass drum beat is repeated a few times in a row (1:25), the same goes for the video. This gives a very playful effect, as if someone is playing with parts of reality in order to make music (which is essentially true).
Give me more!
I've chosen Pas Encore to be the Track of the Week not because I think it's the best song Pomplamoose have done, but because it's the start of their collaboration on YouTube through VideoSongs. To see music being made in this way, in that little musical room, combined with their mutual chemistry, is something unique. If you like Pas Encore, I definitely recommend you check out their YouTube channel for more of these videos.